For brides-to-be, figuring out the wedding party is no easy task. Among family and friends they have accumulated over the years, only a handful will have the privilege of being called "Bridesmaid." But there's still one thing harder than this: Choosing the Maid of Honor.
Sometimes, you just can't narrow it down to one. How can a bride choose between her sister and her best friend since childhood?
Can I Have Two Maids of Honor?
The answer is yes! Not only is having two maids of honor acceptable per modern wedding etiquette, but it's also a savvy move when it comes to the logistics of preparing for your big day.
How to Have Two Maids of Honor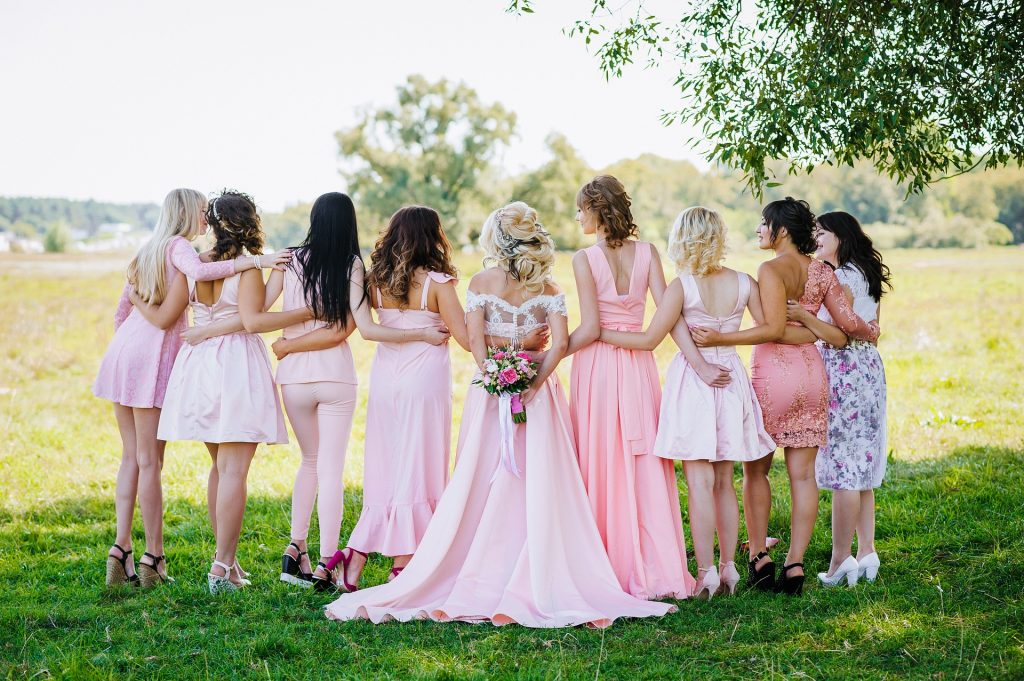 Before you select two maids of honor for your wedding, consider this first: Are you selecting them out of obligation or because you genuinely want them in your wedding? Remember that it's absolutely okay to choose your bridal party according to who is special to you — it's your day!
Once you select your maids of honor, you'll need to consider how each one will help with the wedding planning. If one is local and the other lives hours away, have the local maid of honor help out with tasks that require her physical presence such as dress shopping and checking out bachelorette party venues.
If the other maid of honor lives in another state, for example, she can still be involved in the planning process! An out-of-town maid of honor can easily look online for decoration ideas, wedding invitation and program styles, etiquette and other research-intensive items.
Make sure they are involved equally and that they are able to split the financial requirements of fulfilling their roles — which shouldn't be difficult if you've been friends for years.
Common Etiquette to Follow
So, how do you incorporate two maids of honor into your wedding with tact and grace?
Here is a brief list of etiquette rules to follow when you have two ladies sharing this honor:
Foster a strong partnership: Your maids of honor both have important responsibilities and need to communicate effectively and comfortably with one another. If they don't know each other well, work on helping them connect in the early stages of wedding planning.
Ensure equal involvement: While the planning phase task delegation is flexible, dual maid of honor roles in the ceremony and reception are fairly cut-and-dry. For example, if one maid of honor holds your bouquet during the ceremony, have the other sign your marriage license afterward.
Be clear about responsibilities: Especially if your maids of honor don't live near each other, it's critical to clarify responsibilities as early as possible in the planning stage. This ensures both maids of honor are involved and that there is no confusion about who does what.
Do something special for both: After the wedding, it's important to thank your maids of honor by doing something equally special for both. Being a maid of honor can be a tough job — and showing your love and appreciation is imperative.
If you're planning to have your wedding in York County, PA, contact Wyndham Garden York for information about wedding packages!